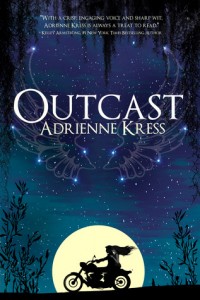 Publisher: Diversion Books
Publish Date: June 4th, 2013
Source: ARC from publisher
Goodreads
Rating 4/5 – It's official… If Adrienne Kress keeps writing YA, I will definitely keep reading it!
About the book: After six years of "angels" coming out of the sky and taking people from her town, 16-year-old Riley Carver has just about had it living with the constant fear. When one decides to terrorize her in her own backyard, it's the final straw. She takes her mother's shotgun and shoots the thing. So it's dead. Or … not? In place of the creature she shot, is a guy. A really hot guy. A really hot alive and breathing guy. Oh, and he's totally naked.
Not sure what to do, she drags his unconscious body to the tool shed and ties him up. After all, he's an angel and they have tricks. When he regains consciousness she's all set to interrogate him about why the angels come to her town, and how to get back her best friend (and almost boyfriend) Chris, who was taken the year before. But it turns out the naked guy in her shed is just as confused about everything as she is.
He thinks it's 1956.
Set in the deep south, OUTCAST is a story of love, trust, and coming of age. It's also a story about the supernatural, a girl with a strange sense of humor who's got wicked aim, a greaser from the 50's, and an army of misfits coming together for one purpose: To kick some serious angel ass.
Learn more about Outcase by Adrienne Kress – http://www.diversionbooks.com/ebooks/outcast
Visit Adrienne Kress online – http://www.adriennekress.com/author.html
Thoughts: Well, that's it, I'm officially an Adrienne Kress fangirl. Yes, I loved The Friday Society, yes, I chased her down at a local book event to get my ARC signed–but NOW it's official. While I'm not usually one for angel stories, the mystery behind the angels of Outcast hooked me right away, and the writing made sure I wouldn't be able to put the book down.
The way Adrienne Kress approached the idea of angels, and the cult like atmosphere of this town absolutely blew me away. She managed to perfectly pull off the idyllic setting that has you looking over your shoulder every few minutes. This, combined with a realistic portrayal of teenaged Riley, and you've got yourself a great YA novel. Of course, I also really enjoyed Gabe, his interpretations of the "future" (for him) and the interactions between these two main characters. Witty-banter-swoon!
There were some elements that were a little too easily explained away for my taste, but nothing that really detracted from the story. The characters all seemed to accept the odd things in their lives (not even counting the angels) a little too easily, when a little more explanation could have easily fleshed things out for the reader. Overall, the problems were minor and the flow of the story made them easy to forgive.
If you haven't read an Adrienne Kress book yet, well… I might still suggest The Friday Society to start, but Outcast is also a pretty great read. This girl can write memorable young adult novels with the very best of them, now I just need one of her publishers to give the okay on a sequel so I can dive back into the worlds she has created.
Purchase Outcast by Adrienne Kress
@Amazon (US) @Amazon (CAN)
Guest Post from Adrienne Kress
I have always enjoyed reading a good romance, but up until OUTCAST I hadn't had a love story as a main part of any of my novels.  I was always more interested in focusing on the adventure parts of my story, on the mystery.
And on the friendship.
You see I have been very blessed in my life to have incredible friends who are enormously important to me.  Who are pretty much like family to me.  So before tackling writing a romance, I first wanted to show that love and relationships can take other forms.  I find sometimes friendship can be considered secondary to romantic relationships in mass media so it was important to me to show that it was just as worthy, just as significant.  Further, when it came to my first YA novel, THE FRIDAY SOCIETY, I also wanted to demonstrate that female friendship can be free of the catty frenemy label that is so often associated with those kinds of relationships.
But, after having addressed all this in several books, it finally came time to give writing a romance a go.
My main goal with the romance in OUTCAST, with Riley and Gabe's relationship, and even the flashbacks of Riley and Chris's relationship, was to create relationships based on common interests and real chemistry.  In the past I have read romances where the two main characters get together for seeming no other reason than they were fated to.  And I can understand the appeal of such a relationship.  There is something so compelling and exciting about there being one person out there that is destined for us.
However, I tend to prefer reading or watching relationships that build out of mutual respect.  And it was my goal to create two people who not only were attracted to each other, but liked each other.  Who had a good time together, understood each other's sense of humour, and had common values and interests.
So I created people who got each other.  Riley's sense of humour is considered unique in her community, and it is Gabe and Chris who understand and enjoy it. They also are the ones who bring her out of her comfort zone, knowing that she does need a bit of a push on occasion.  On the flip side it is Riley who understands what's below the surface of both Gabe and Chris.  They aren't just the bad boy and athletic star respectively as others see them.  Importantly these understandings don't come from some magic connection, but from spending time together, getting to know each other, and communicating.
Now that I look at it, I suppose, ultimately, I was once again demonstrating the power of friendship.  That the foundation even for romantic love is this incredibly important relationship.  I suppose one could consider "friendship" a running theme in my work.
And, you know what?  I'm quite fine with that.
Thanks, Adrienne for coming back to the blog again! It's always so much fun hearing from another Toronto based, YA author. Can't wait to see what you come out with next!